The menu item "Account" is one of the four main menus of timr. Here you can add and edit your "Billing address" (marker 1), extend and upgrade your timr account (marker 2), change the Account Owner (marker 2) and close your timr account (marker 4).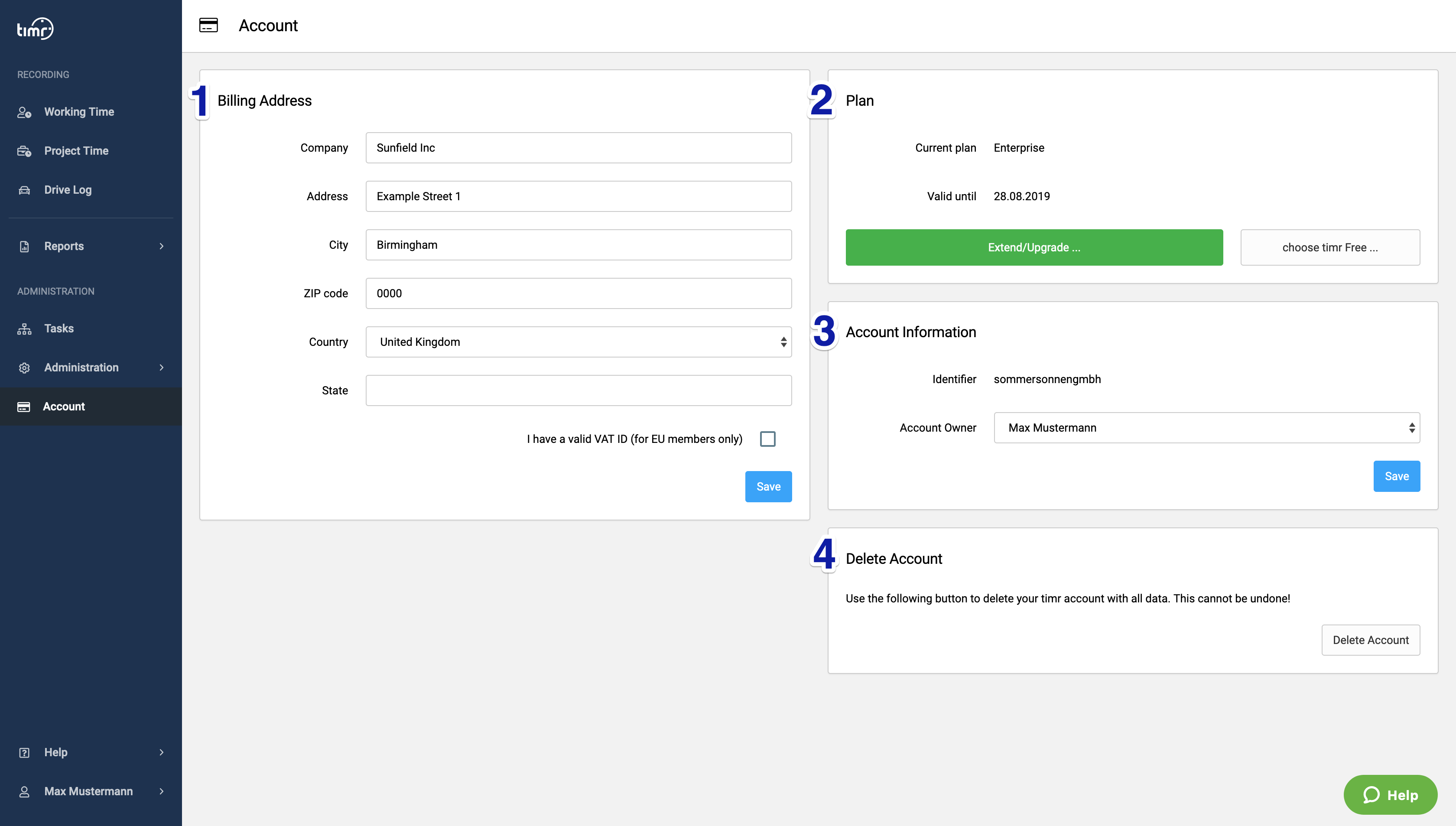 1. Billing address and VAT
The "billing address" must be inserted manually. The address information is required to send you an invoice if you upgrade to a paid plan or want to extend your account.
Only for EU Customers:
You can insert the "VAT ID", if your company is located in the EU and has a VAT ID. 
If your company doesn't have a VAT-ID just don't enable the checkbox. 
If your company has a "VAT number": Please select the "Country code" and insert your VAT ID. Click on "Validate" in order to verify if you VAT number is valid. If the number is valid, the question mark gets green, click on "Save" to finish (Marker 4).
2. timr Plan
You always see your current plan of timr and the validity period in the area "Plan". To upgrade your account to a Premium Plan, click the "Extend/Upgrade" button.
All details about the upgrade to a timr professional or timr free plan are available here. 
3. Account Information
In the area "Account information" you can see the name you have chosen for your account - the so called identifier. It is also part of your timr web address.
In this example the account name (= identifier) is "mustermanngmbh". The timr web address therefore is "mustermanngmbh.timr.com".
In the area "Account information" you can also see and change who is the account owner.
The "Account Owner"per default is always the person who registered the timr account. If you have more admins you can change the "Account Owner" by choosing one of the admins. Only the Account Owner can see the "Account" menu - therefore, only the Account Owner can extend the timr subscription. 
You can find infos on how to change the account owner in this help center article. 
4. Close Account 
For any reason at any time you can of course close your timr account, just click "Close account". 
However, ff you have any problems, doubts or questions please don't hesitate to contact the timr support team. Just use the web widget directly in timr or send an email. We are always happy to help. Also it's our goal to constantly improve timr in order to provide your company with the best time tracking tool. That's why your feedback is always welcome and we're glad to hear from you.