Based on the stored rules, working times are automatically validated by timr. The results of these validations can be found in the time account, in the reports under working time, project time or drive log and under reports/validations, as described here.
To receive validations by mail, activate who should receive the message and when it should be sent under "Administration/Settings/Reports".
Video Overview (in German)
1. Overview Validations
Under "Reports/Validations" you will find a list of all validations to stored working time rules.
1.1 View Manager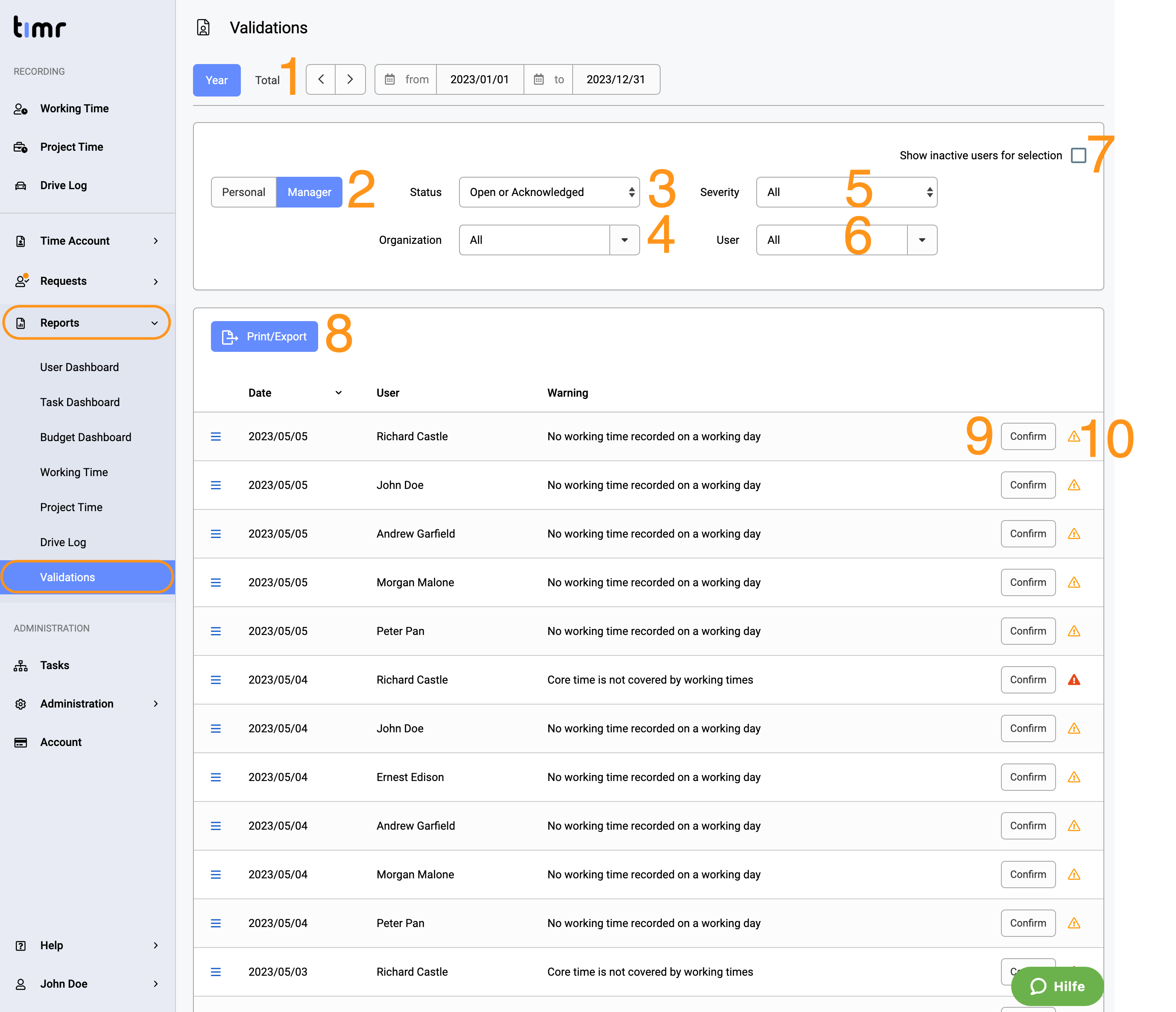 Marker 1: Select the time period. You can choose between "Year" and "Total".
Marker 2: Administrators and team leaders can choose between "Personal" for their own warnings and "Manager" for the warnings of all employees or team members.
Marker 3: Select validations by status. The choices are All/Open/Acknowledged/Confirmed/Closed, and the combinations "Open or Acknowledged" or "Open or Acknowledged or Confirmed".
Marker 4: Select the Organization (Enterprise Plan).
Marker 5: Filter by severity.
Marker 6: Select "All" users, or narrow down to individual users.
Marker 7: You can also include validations for inactive users.
Marker 8: Notes can be printed as PDF, or exported as XLSX, DOCX or HTML.
Marker 9: Confirm records (see point 2).
Marker 10: The warning note indicates the urgency of a warning, depending on the color.
1.2 Personal view

For the personal view, see View Validations for Employees.
1.3 Print or export list of reviews

To conveniently review the validations, you can either open a second browser window in parallel, or download the notices as a PDF or export file.

2. Approve or reject validations

As an administrator/team leader, you can approve validations, in which case they will no longer appear in the overview.
If you want to take back an approval, filter for "Confirmed" in the status. Use the editing menu to set the entry back to "Open".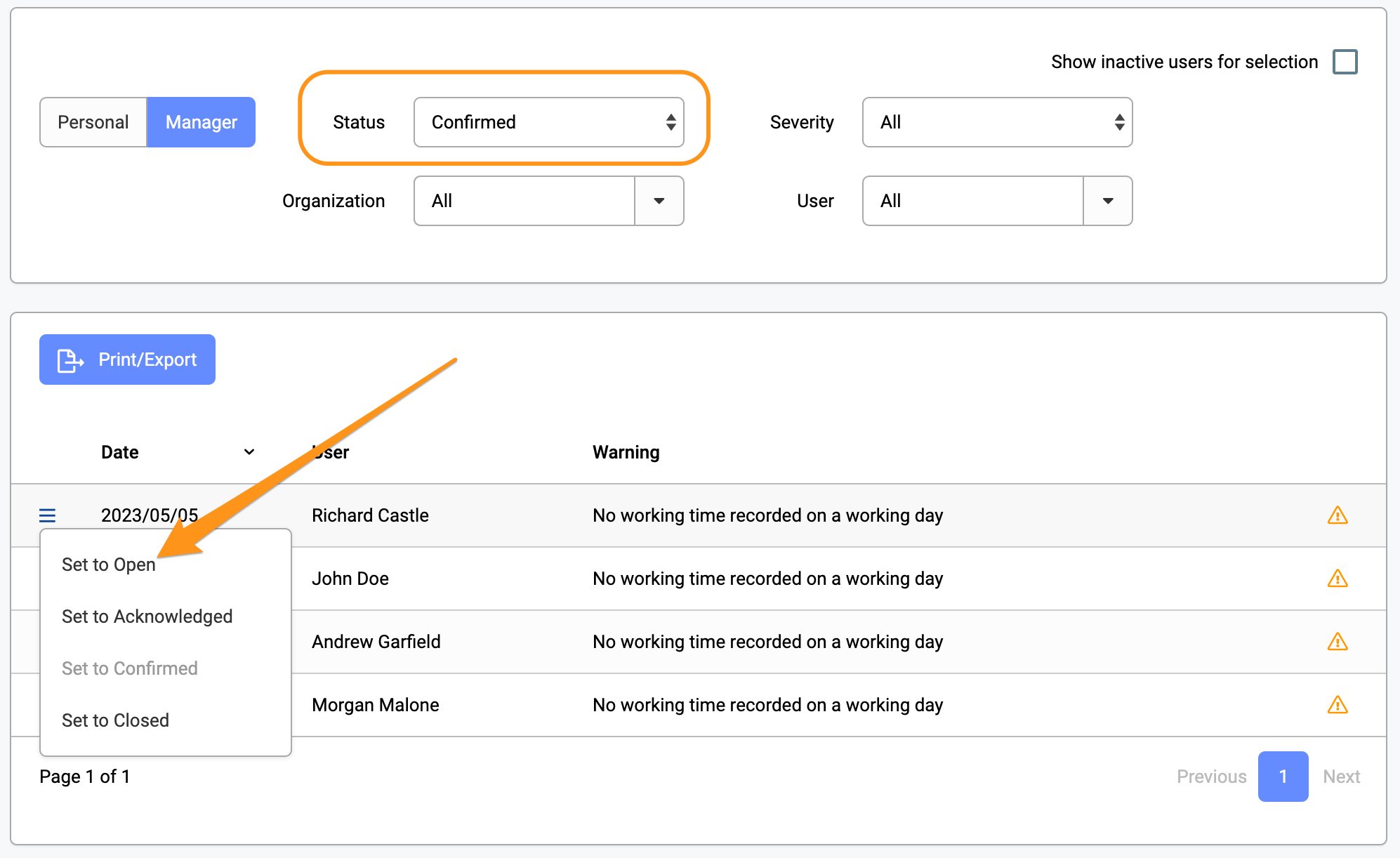 If entries have already been checked and are acknowledged by employees, you can use the "Acknowledged" filter to narrow them down and approve them or set them back to open.
Marker 1: Confirm the acknowledged entry if it is correct.
Marker 2: "Set to Open" if the employee has to correct the entry.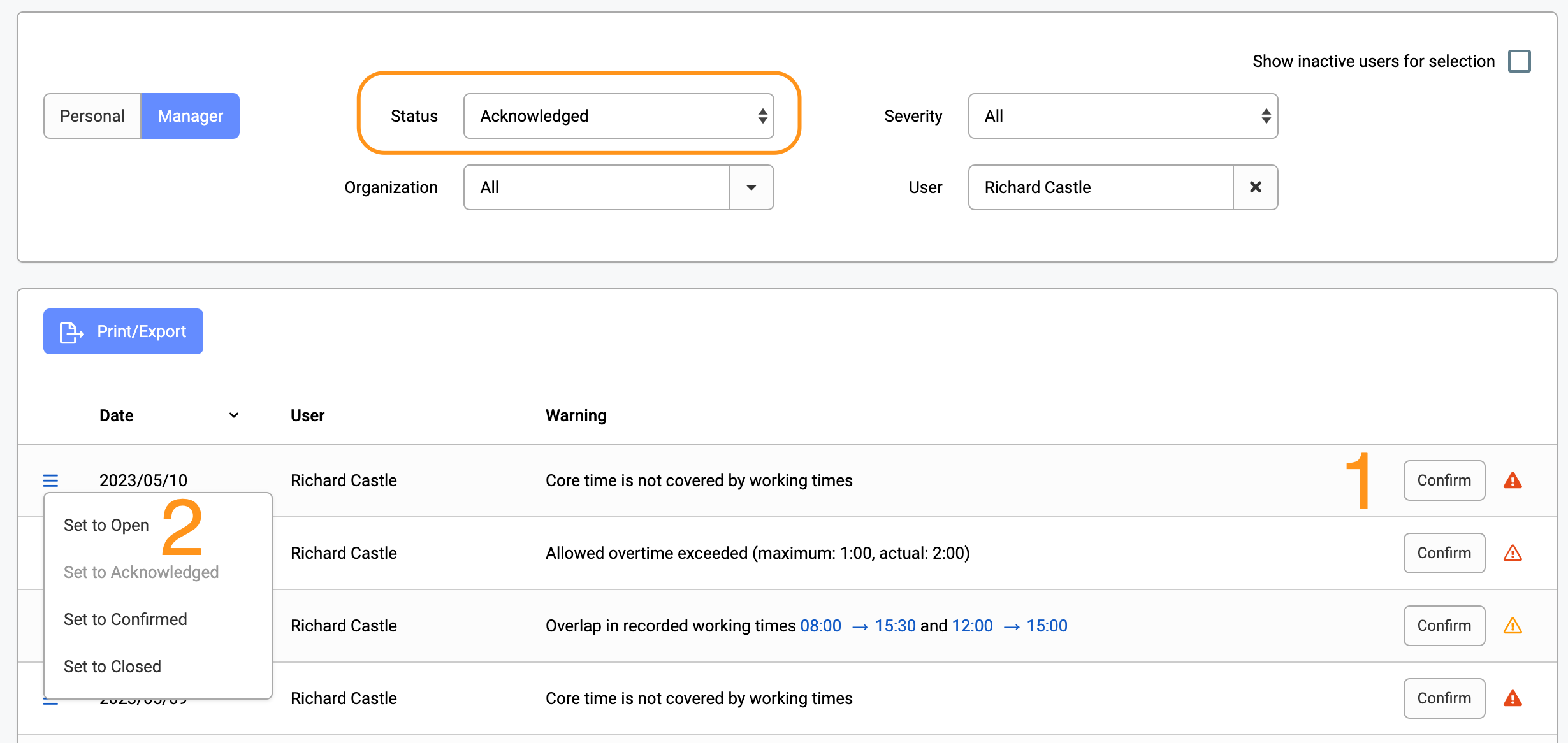 3. Check Validations in the Time Account view
The listing of the checks will also be displayed in the "Time Account/All Accounts".
You can see the current status of the Validation, e.g. "Open", "Acknowledged" or "Confirmed".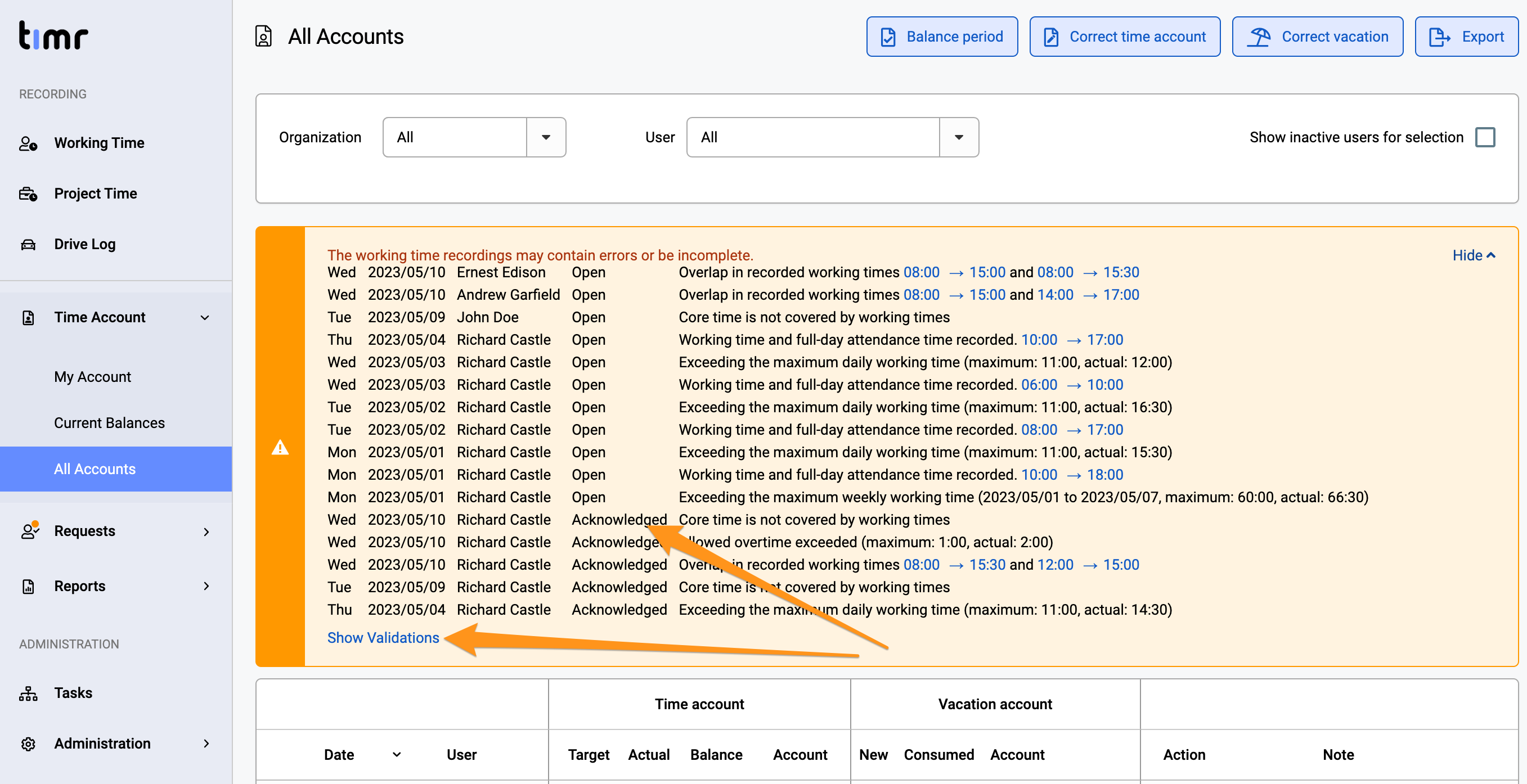 Marker 1: Validations acknowledged by employees.
Marker 2: Switch to the "Reports/Validations" window via the "Show Validations" link.
If a period is balanced, the validations will no longer appear, but can be filtered in the Reports/Validations view using the "Closed" status. For details, see Balance Periods.
If you do not want certain validations to be displayed, you can change the rules for the validations (see Configuration of Working time under Point 4 Validations).
Documentation about Validations:
Overview of Validations: Automatic review of working time records
Activate / deactivate Validations: Advanced Configuration Working Time
Automatic validations for Employees: Automatic validations - for employees (CLOSED BETA)