Administrators and Project leaders (see Enterprise Plan: Project leader permissions) can view their personal projects as well as all granted projects.
1. Budget Dashboard - Personal View
The "Personal" view only shows the own tasks and the own budget like in the budget dashboard for "normal" employees.

2. Budget Dashboard - Project Leader View
As a project leader you have the overview of all hourly rates and time budgets in the Budget Dashboard.

in the first part you see the overview of the tasks and in the second part the overview of the users.
You can choose between three different views: Hours, Revenue, Costs. You can also choose to see the values "Absolute" or "Relative". The bars show you the consumed hours visually separated in billable and not billable.
If you want to see details for a task you simply click on it and you come one level deeper. You see in the screenshot e.g. the projects for the customer Delta Work Inc.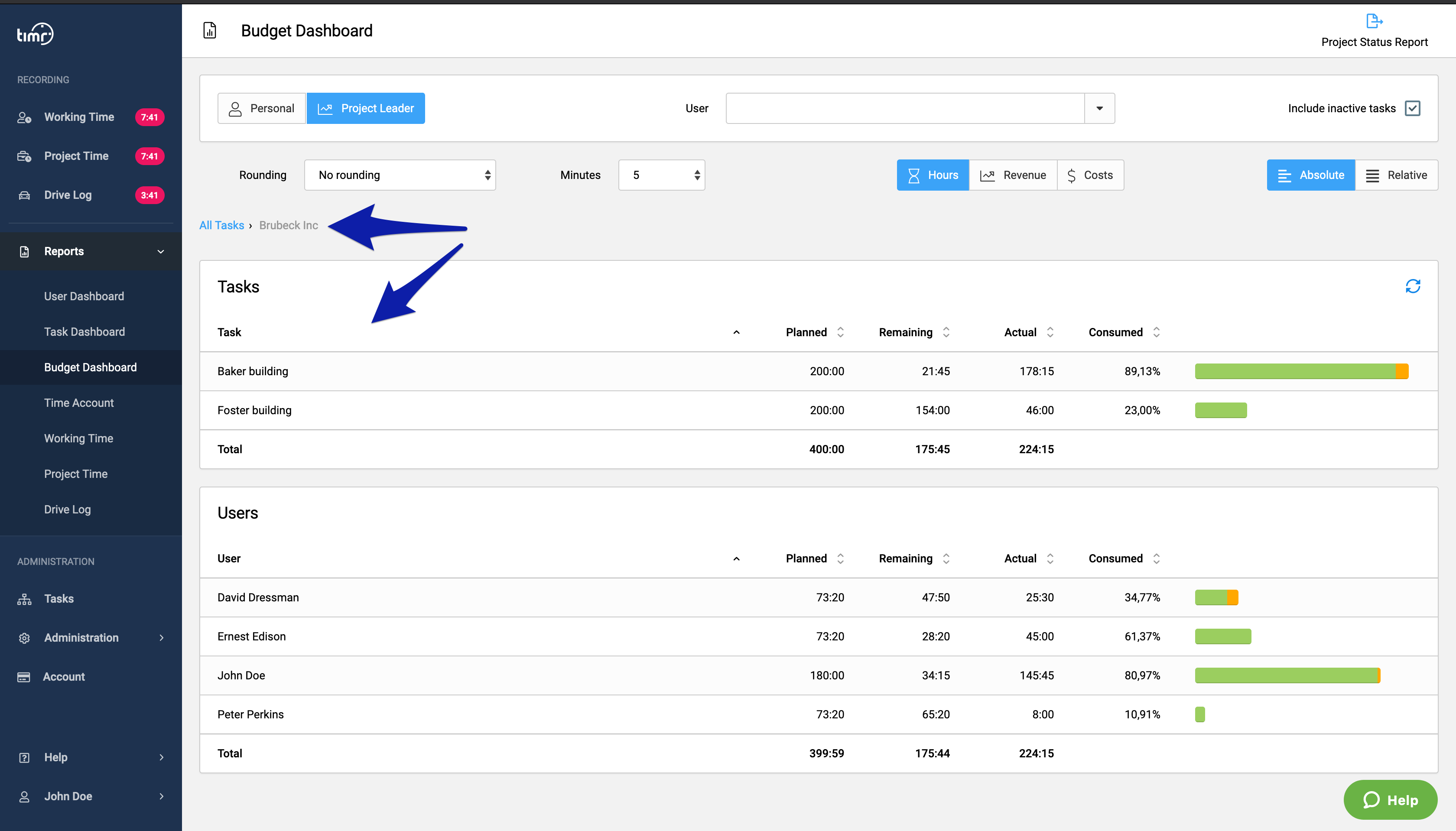 2.1. "Hours" View
This view shows planned and consumed hours. Please note: 'Consumed' only counts billable hours. 'Not billable' hours will only be displayed in the diagram but don't count for the budget.

2.2. "Revenue" View
This view shows the hours multiplied with the hourly rate that applies. The hourly rate depends on the planning type. It can be a fixed hourly rate per task or the external hourly rate of the employee. So this view is specially important for projects which are planned by 'Employee Hourly Rate' in order to see the revenue which was achieved.

2.3. "Costs" View
In this view you can see if you made a profit or loss with a project. So for example, if the hourly budget was already overdrawn, it's still possible that the project still generates a profit because the hourly rate might be higher than the hourly costs of the employee. This is important to see at a glance in order to make decisions about the project.

3. Project Status Report
You can create all different kinds of exports for the project status report. Click on "Project Status Report" and choose the desired format.

Choose the "Due Date" and add a comment if you want.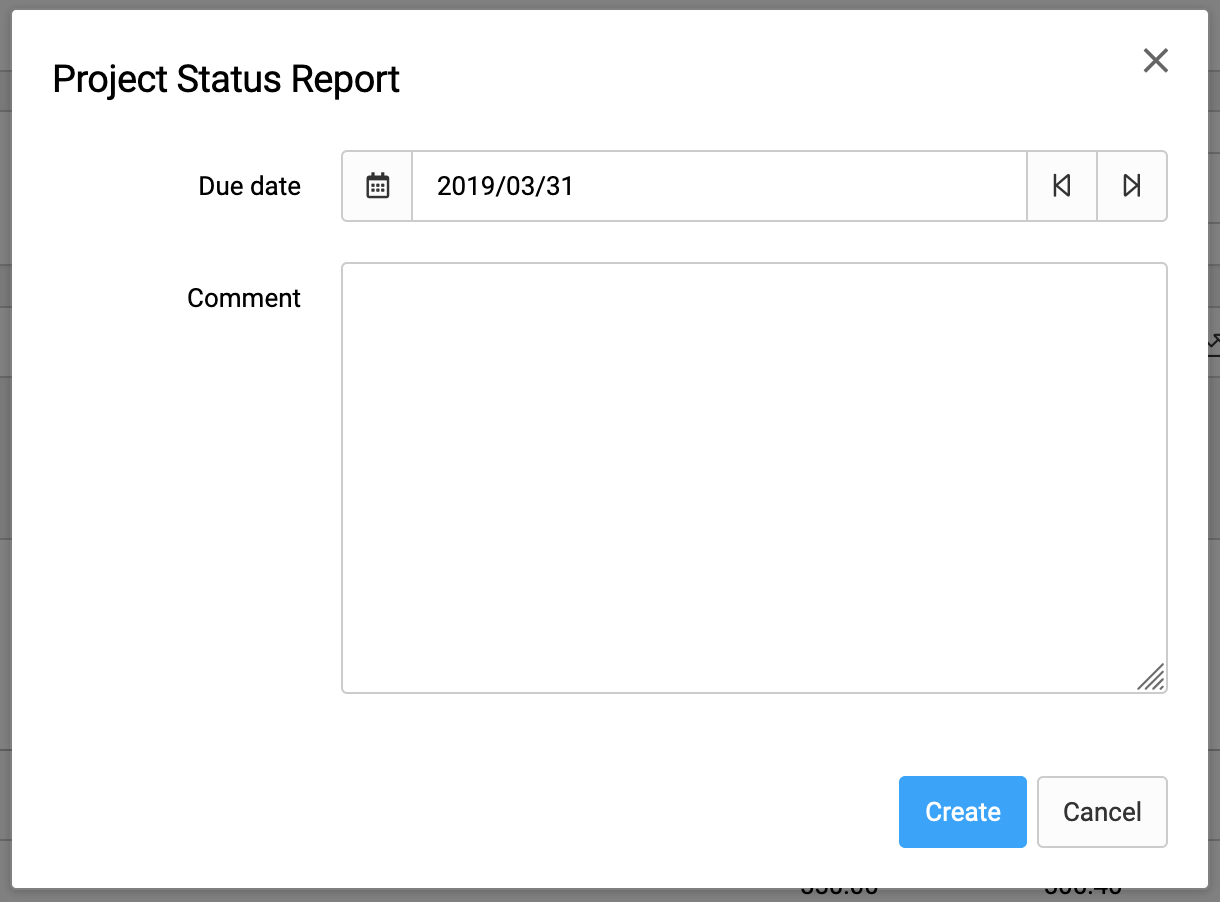 If you click now on "Create" a project status report will be shown.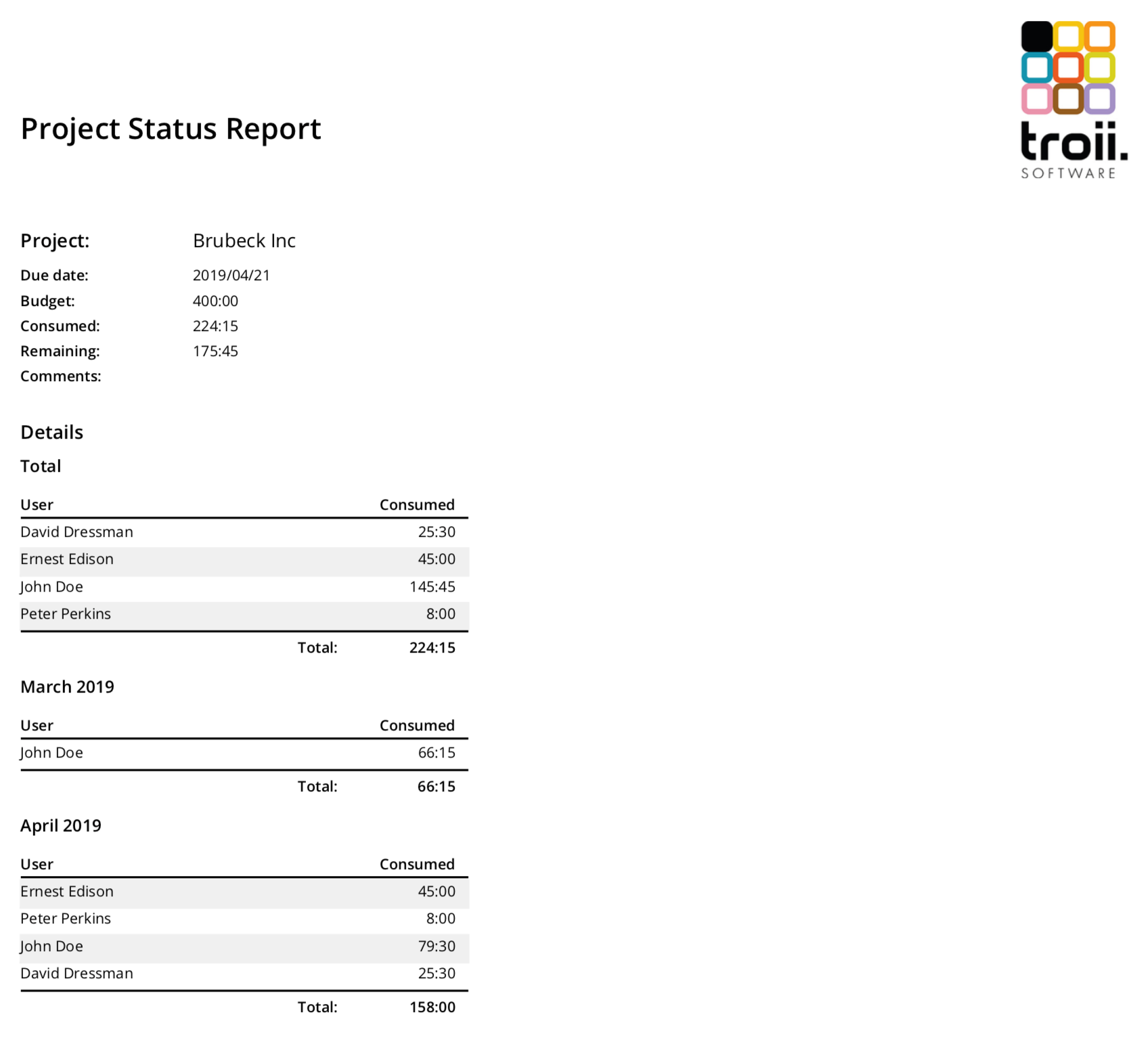 4. Budget Warning-Email
Administrators and Project Leaders can receive warning emails if the planned budget of a task was exceeded. Further information on warning emails can be found here.