The timr app offers even more features.
If you click on the dots on the bottom right side of your screen, you'll get to the following menu: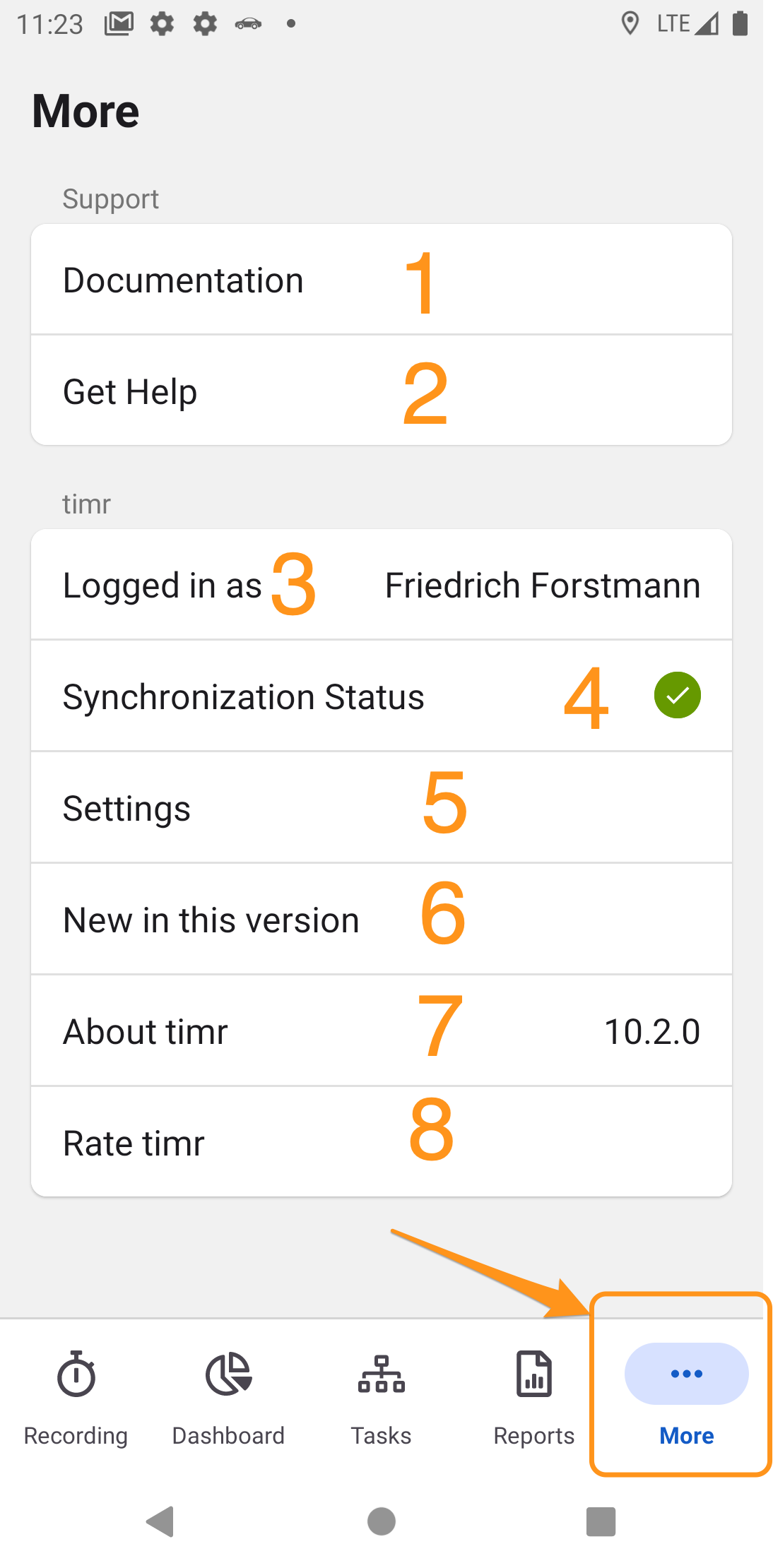 1. Documentation
If you have questions regarding some features of your timr Android App, you can visit our timr Help Center where you'll find articles on all important topics. Otherwise our support team will be happy to answer any questions you have.
2. Get help
You can give feedback by mail here at any time, or express questions, wishes and suggestions. The support team is looking forward to hearing from you.
3. Logged in as
Here you see info about your account and login data. Additionally, you can logout here.
Attention: If you logout, you have to connect your timr App to the Web application again via entering your timr URL, login and password. See also: How to connect your Android App with your Web Account.
4. Synchronisation status
Via "Synchronization status" you can check when the last synchronization took place and whether there is still data that has not been synchronized. Further information on synchronization can be found -> in these instructions.
5. Settings
You can currently find the following settings under the Settings menu item:
Activate whether you want to be informed about the current recording status.
You can set the task selection. Information on task selection can be found in this documentation.
In the BETA section you can find new applications that are currently under test:
Select your preferred recording mode (see Interleaved recording of work and project time).
Activate location based start/stop notifications if you use projects with stored location information.
Start/Stop reminder notifies you if you forget to clock in or out at your usual times.
6. New in this version
Check out which new features are available in the current version of your timr Android app.
7. About
"About timr" shows you the currently installed version of the timr app and contains information about terms and conditions/privacy policy/imprint. In this section you also have the possibility to send diagnostic information if you are asked to do so by a support agent. You can find more information about this in our documentation article about sending diagnostic information from Android.
8. Rate timr
You can always provide feedback or ask questions, make requests and suggestions. The support team is looking forward to hearing from you.