In order to add working time manually, go to the "Recording" menu (Marker 1) and select the "Working Time" tab (Marker 2). Click on the "Add Time" button (Marker 3) on the left.

Select the desired working time type (Marker 1) and create a note (Marker 2) for this working time entry. timr always automatically suggests 30 minutes.The Start/End Date and the Start Time are always the End Date and End Time of the last recorded working time entry. You can edit the date and time (Marker 3) as you wish, the duration (Marker 5) will be automatically adjusted. Enter a break (Marker 4)and press "Save" (Marker 6).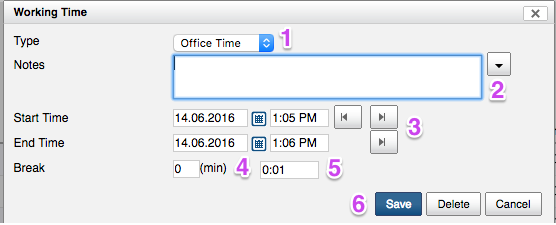 You can enter the time format and duration in almost any form, you will find all the related details in the article about adding time and duration.
As an admin you can also enter working time records for employees in the Reports menu.