An Excel export is available in timr for forwarding time and vacation balances to payroll and for evaluations. You can export the data of each balancing date.

1. Export data of time account balance
Open the menu item "Time Account / All Accounts". At the top right, the "Export" option opens a dialog box.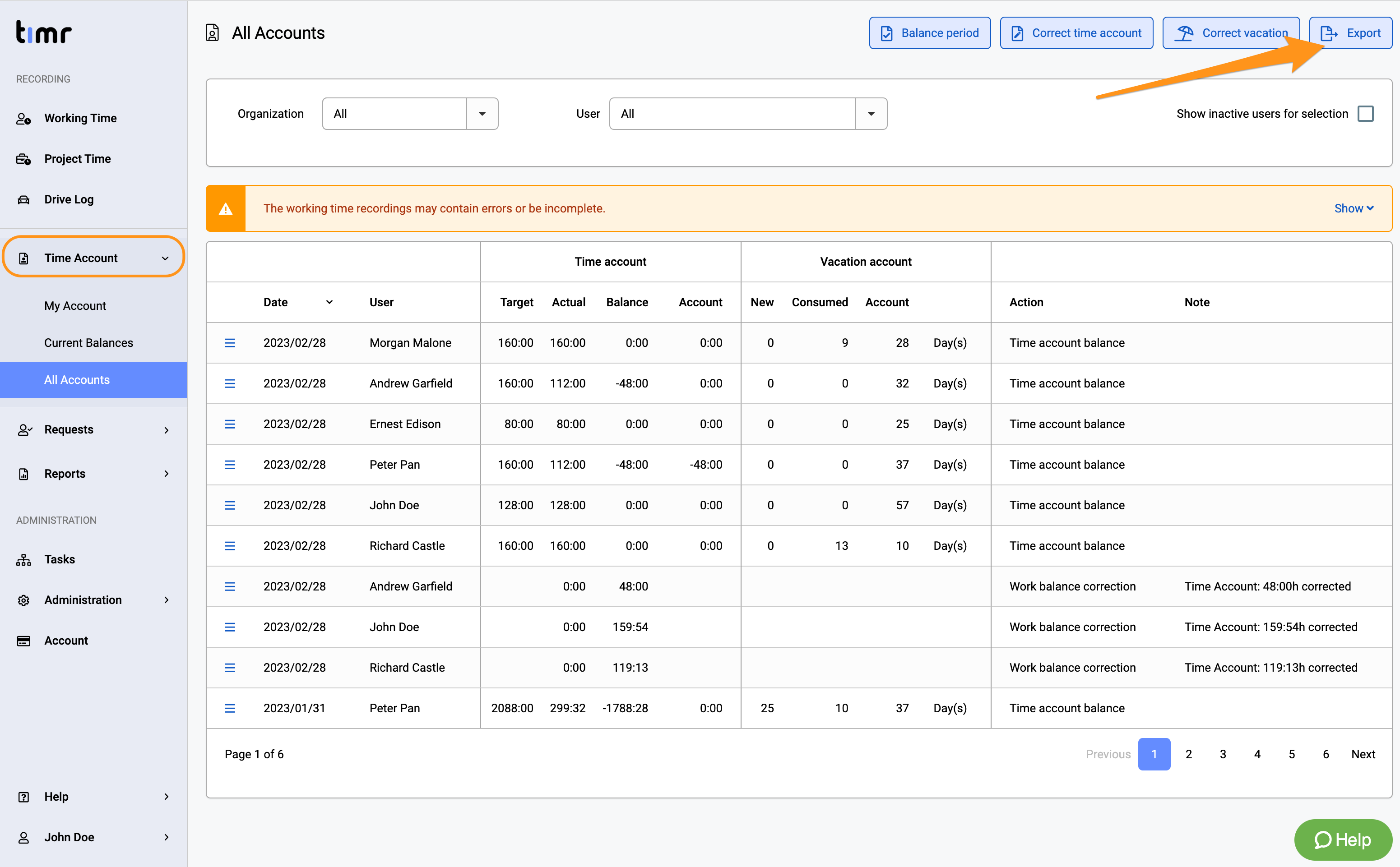 All dates of your time account balances are available for selection here. Select the date for which you want to export your balances. You can also choose whether you need the time data in minutes and decimal. The data of all employees for whom a balance was made on this date will be exported.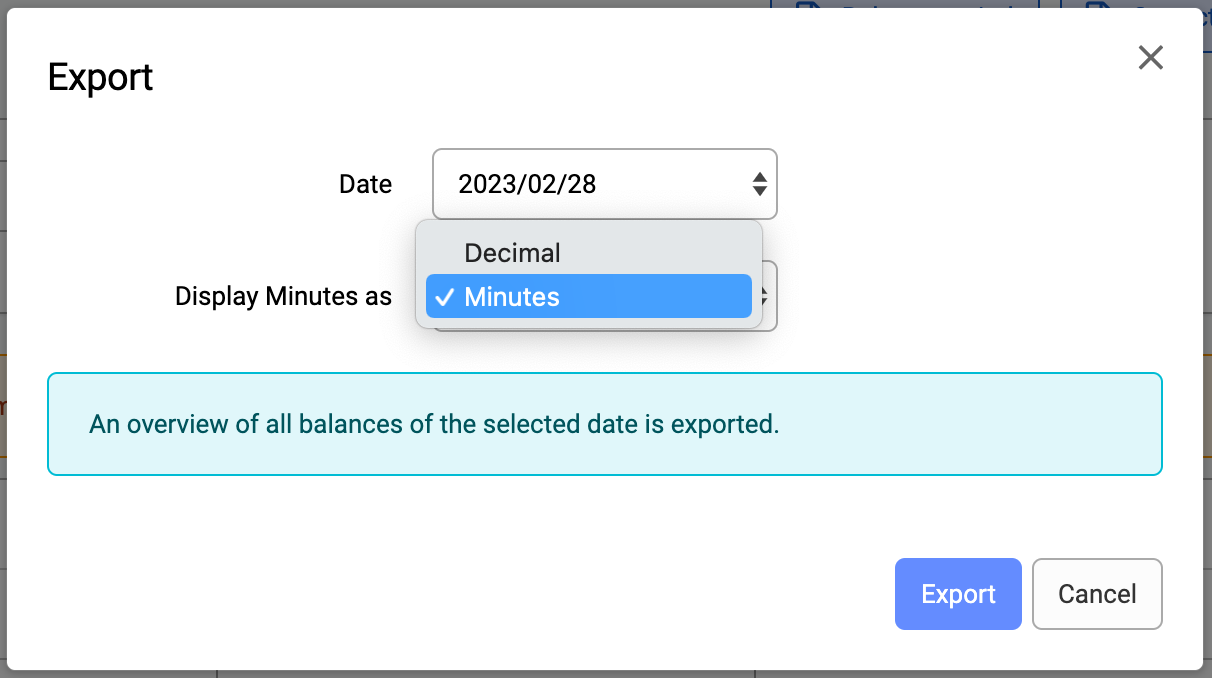 2. Contents of the Excel export
The exported XLS file contains the following spreadsheets:
2.1. Time and vacation account

2.1. Time and Vacation account overview
This view gives you an overview of the status of the time and vacation account at the time of balancing.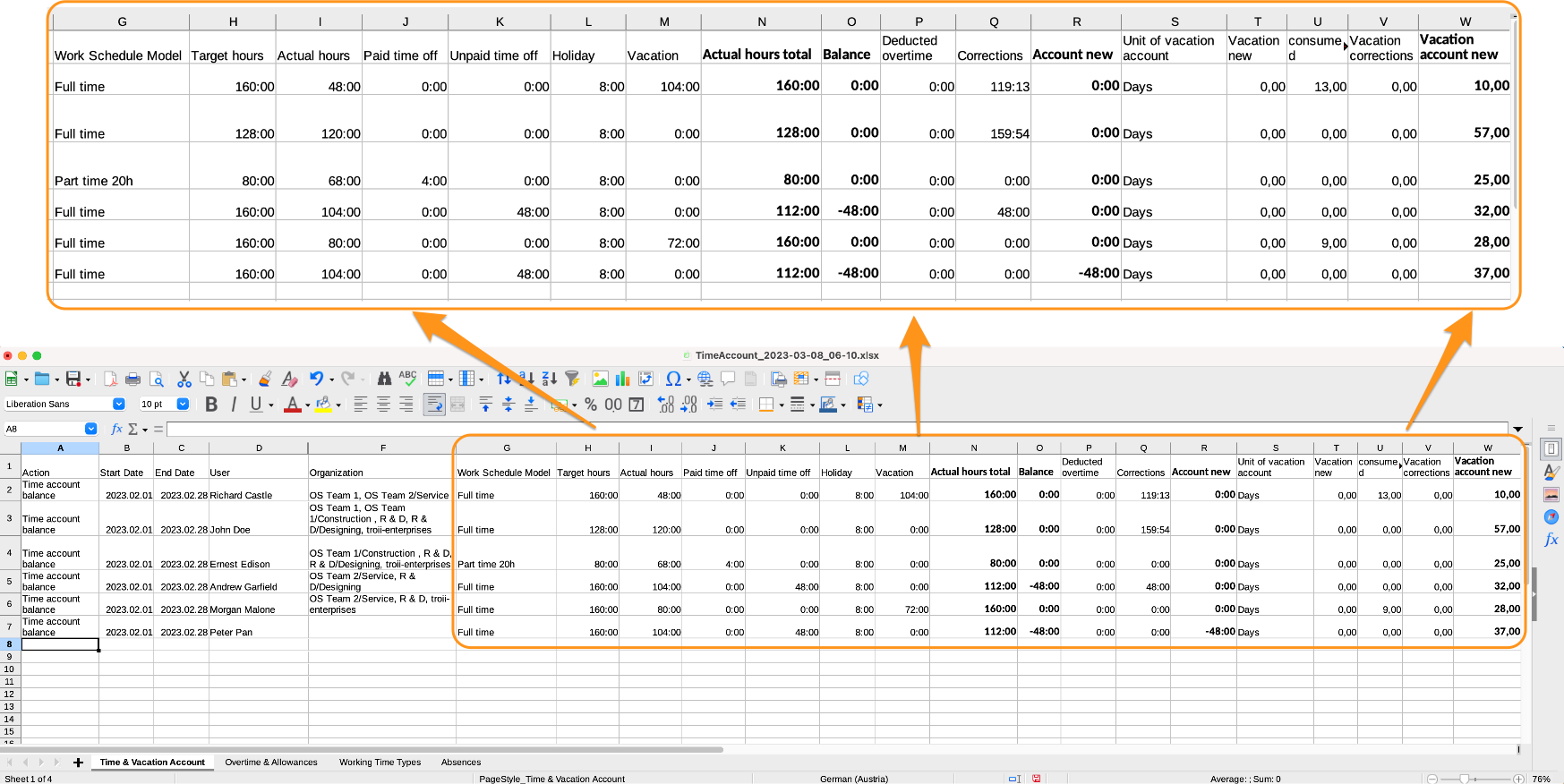 The contents correspond to the data you will find on the individual timesheets: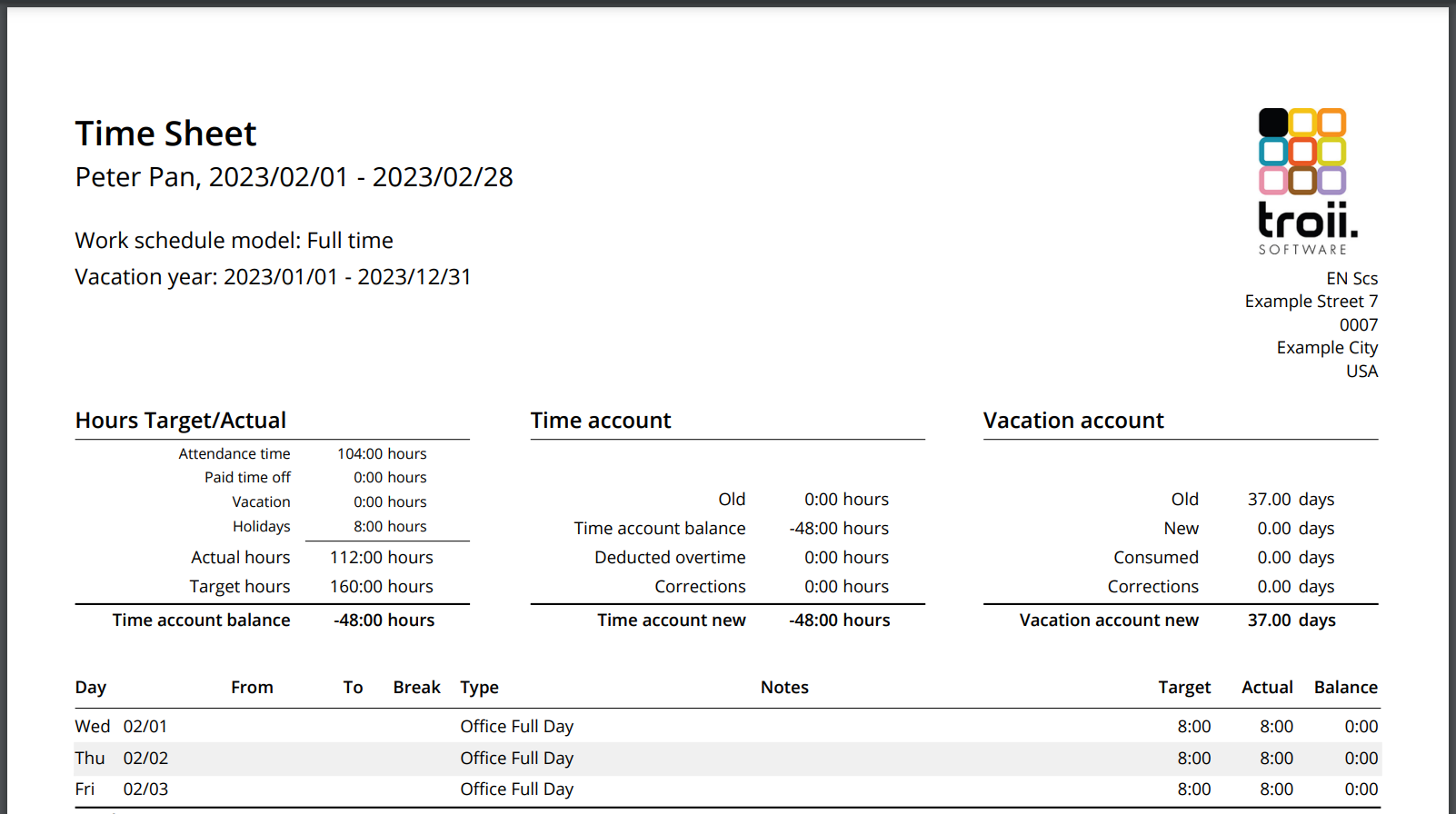 2.2 Overtime & Allowances Overview
The Overtime and Allowances module is currently in beta testing. If the module is activated and rules for overtime and allowances have been created, you will see here the totals of hours accrued based on the respective rules and the status of the overtime account. See "Introduction Overtime & Allowances".

2.3 Overview of hours broken down by working time types
In the "Working time types" overview, all hours of the period are broken down by category and working time type. (Your created working time types can be found under "Administration/Working time types").

2.4 Overview of absences
In this overview all absences are listed in days. All absences are taken into account, i.e. those that run through requests and also those that can be entered by your employees.


Marker 1: If a vacation is entered via request with a date range including non-working days, the working days and the calendar days will differ.
Marking 2: If the absence/vacation is entered directly (without application function), the entry is interrupted for non-working days. So there are 2 entries.

2.4.1 Month accrual
Entries across months are accrued per month.
Example:
10/26 - 11/02 Sick is accrued as follows:
October Export: 10/26 - 10/31 Sick
November export: 11/01 - 11/02 sick

2.4.2 Absence recorded by request function
If an absence is entered via the request function, there is no interruption for non-working days (Marker 1). You will see the working days and calendar days listed in the table.
Example:
Absence from 12.1. - 19.1.

The absence is also displayed in the calendar as a continuous absence.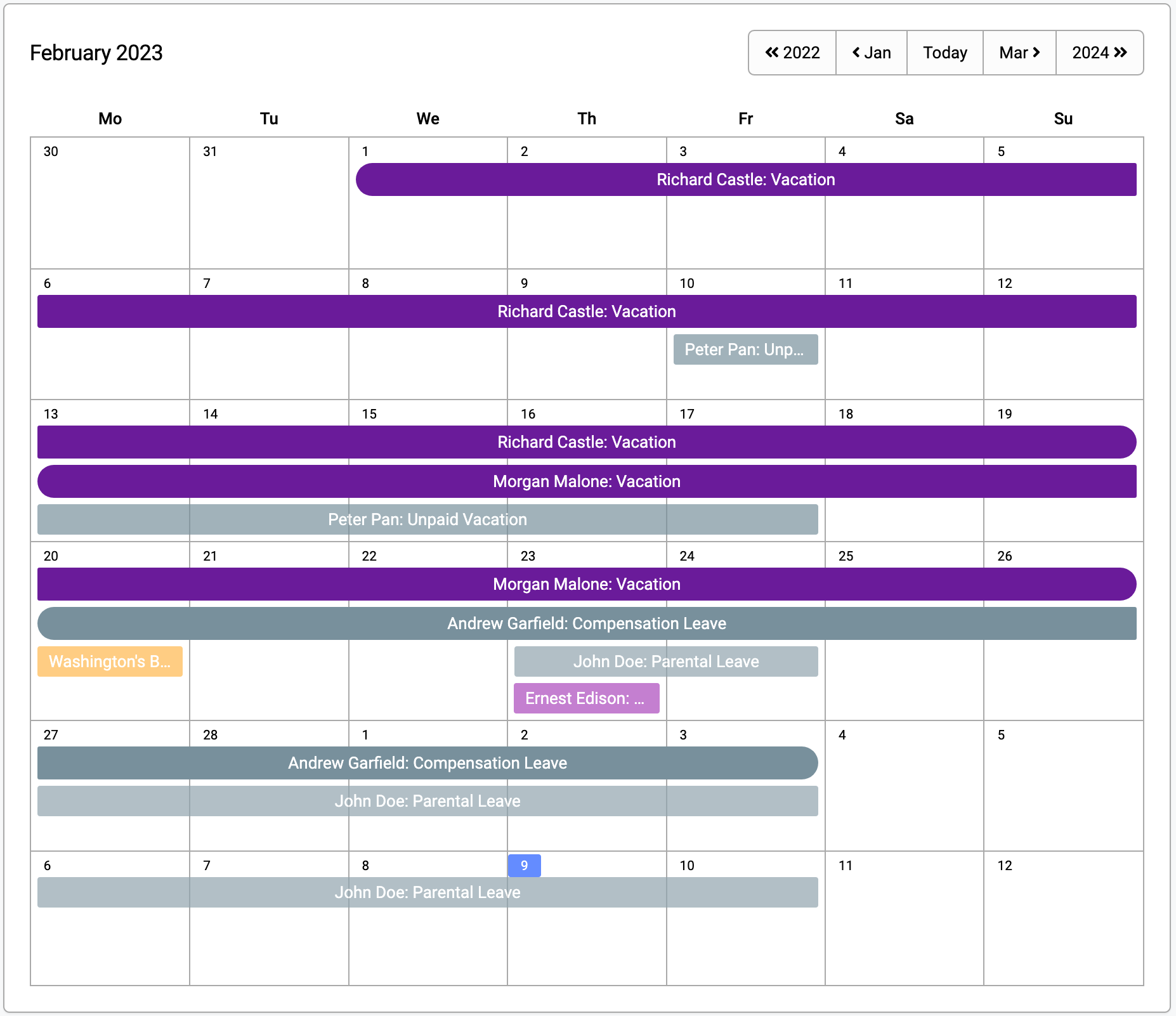 2.4.3 Interruption on non-working days if absence is independent (without request)
If an absence is recorded directly, i.e. not booked via the request function, there is an interruption on non-working days (Marker 2 or Example Parental Leave).
Example:
Thu 26 Feb - Fri 10 Mar results in 3 periods
23. + 24.1. / 28. - 3.3. / 6. - 10.3.
Note: This representation will be changed. It should also be shown without interruption on non-working days.