1. What can be tracked?
timr allows you to track the position of your employees when they start and stop a recording. Therefore you can see with one mouse click where your employees are located when starting and stopping. This feature helps your company saving time and money.
Note: The position is only tracked when you start and/or stop a recording. timr doesn't offer live position tracking.
Example: You run an installer-craft company with 5 employees. Your employees are working on field services most of the time and they are working on different construction sites. You get a call from an important customer, it is an emergency case. With timr you can see the location of your employees at a glance. Now you can easily send the employee who is next to the customer.
2. Where to view the positions?
If tracked, positions at the start and the end of a recording can be seen in the Reports. In the "User Dashboard" the start position of running recordings can be reviewed.
Finished records for Working time, Project time and Mileage tracking (Drive log) can also be reviewed in the Reports menu. There you can see positions for the start and the end time.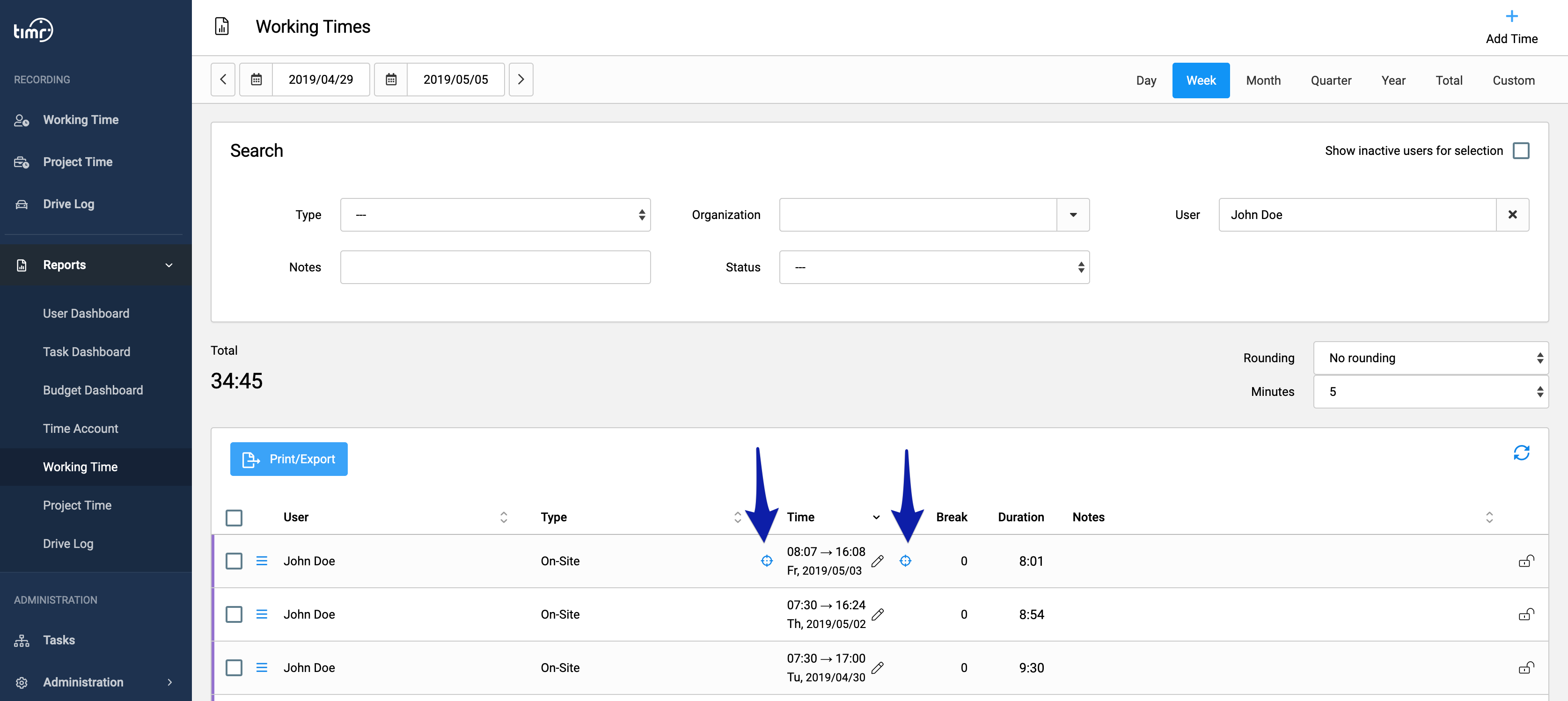 If you move the mouse over the
icon, a map, like shown in the screenshot below, appears. As indicated in this example the position at the time of start is shown. Apart from the exact address, you can see the latitude, the longitude and the accuracy. The accuracy is particularly important because the signal may not always be present (eg. in buildings).
By clicking
you get a larger, clearer picture in form of google maps, which provides you a more detailed map of the tracked position.
3. Your Team at a glance
Running Recordings
In the User Dashboard in the Reports menu you can see all currently running recordings of your employees. There you can also see the location at the start time if position tracking is activated.

4. How to track the Position?
The position tracking is only available through the mobile clients. The timr app detects your position on your phone and shows it in the web application.
4.1. Configuration for position tracking
Using the GPS position tracking in timr requires you to activate the feature in your timr account.
Additionally, employees have to allow the timr app on their smartphone to use the mobile's GPS position.
Here you will find further details on how to configure position tracking: Settings for position tracking
4.2. Position detection on the mobile clients
Please follow the instructions in our documentation: