In the "Administration/Settings" menu you have advanced settings for working time tracking.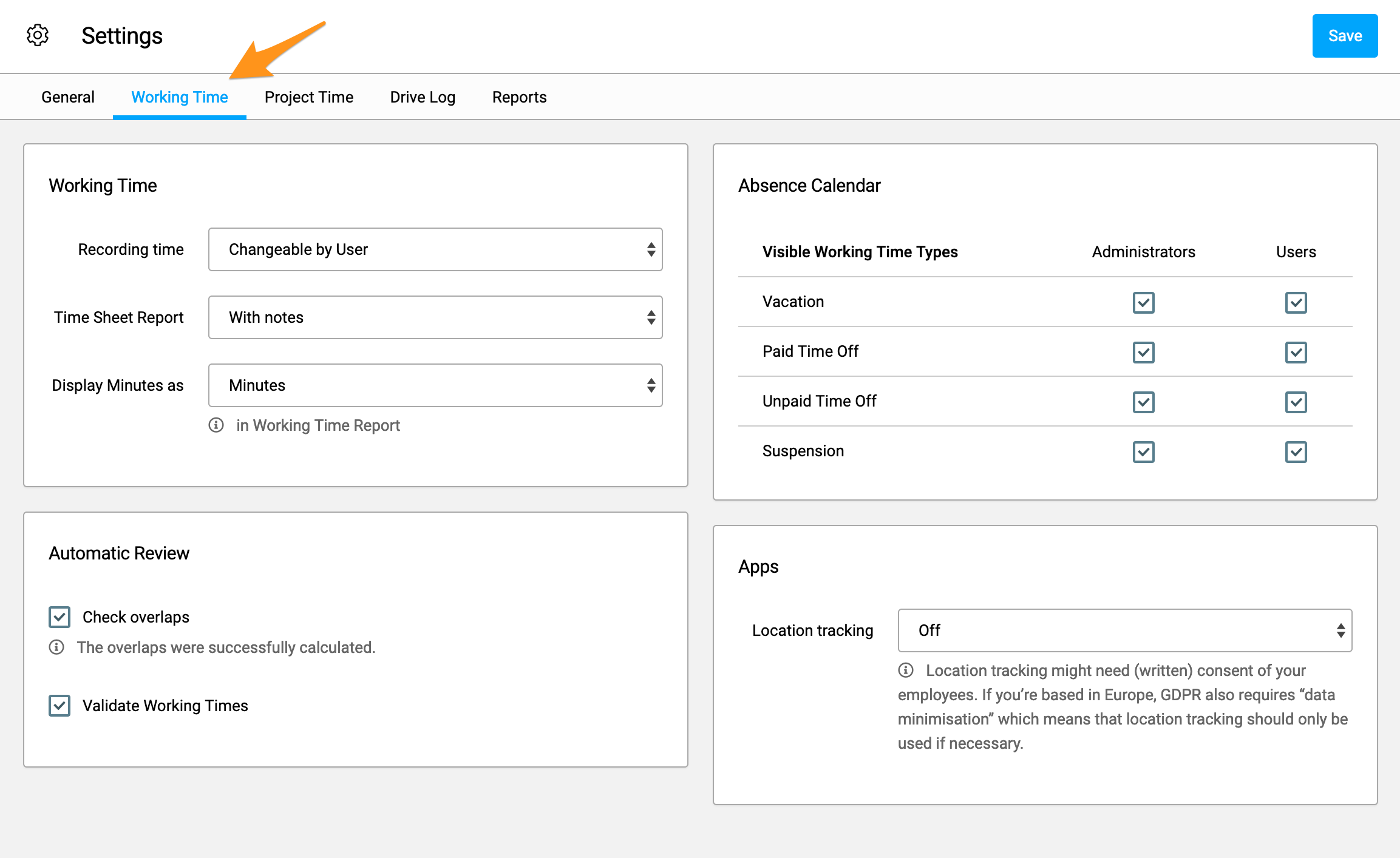 1. Working Time
1.1. Recording time
This is a very important option. Here you can choose if the employees can independently change the recording time or not. For example, if the employee has forgotten to start it's work at 8 o'clock but he has forgotten to start time tracking, he can still start time tracking and change the start time to 8 o'clock as soon as he realizes his mistake. He could also edit the break time if he has forgotten to pause. If you decide that the employee can't change it, only the administrator can edit the record afterwards and the employee has to inform the administrator in order to make the changes for him.
Usually, we recommend starting with "Recording Time" = "Changeable by user" at least within the first 2 weeks. During this time, each employee can get used to timr and it's instantaneous time tracking approach. It's very convenient if you realize at 8:30 that you've forgotten to start at 8 and you can simply correct your fault without having to bother anybody else to correct the fault.
Note: Every modification of the entries is marked with the symbol: There is no possibility to manipulate an entry without getting marked the change.

1.2. Time Sheet Report
Define if accompanying notes to recordings should be visible on the time sheet.
1.3. Display Minutes as
Here you can set how the minutes should be displayed in the time sheet. We recommend to display the minutes in the time sheet in decimal because this makes it easier for you to sum up the time. To give an example seven hours forty-five minutes would look like either in "minutes", 7:45 or in "decimal" 7.75.
2. Absence Calendar
You have the possibility to display vacation entries as well as paid time off and unpaid time off in your calendar. You can choose if this calendar is only available for admins or for all users.
3. Validations
3.1. Check overlaps
It's possible to check overlaps in your employee's work hours.
3.2. Validate Working Times
timr helps you to control your employee's work hours by automatically reviewing them. If, for example, no working time was recorded, a message is displayed in the time account.
4. Apps
4.1. Location tracking in timr Apps
For time tracking with the timr app on your smartphone location tracking is available. If activated, the position for the start and end time is tracked.
In the settings of your timr account you can define general rules for position tracking.
There are several options available, for example, you can define that location tracking is mandatory.
Per default location tracking is disabled.
You can find further details about these settings in our help center article about Settings for position tracking.